Latest  News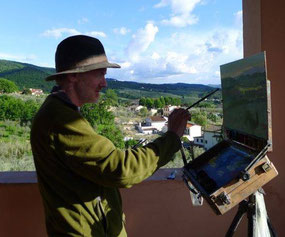 Painting in Tuscany May 2016
In May 2016 I spent a week painting just a few miles outside Florence as a guest of Tuscany Plein Air. Based in a traditional Tuscan villa with magnificent views and surrounded by olive groves teaming with wildflowers and rolling hills this is an inspirational painting setting.
There is a special climate in the River Arno valley surrounding Florence with moisture in the air and light clouds making for spectacular morning skies and sunsets and full sun in the afternoons.
I produced 20+ paintings on the trip, some of which are uploaded here.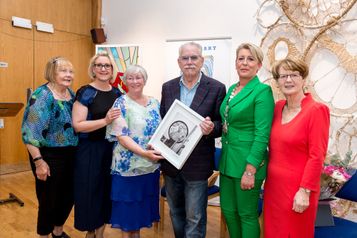 STAG
at Tipperary County Museum
  Recently, I had the pleasure of 'curating' a remarkable exhibition in Tipperary County Museum of 50 years of STAG (South Tipperary Art Group). Curating is not an art term I'm fond of but in this case, the job involved selection, arranging and hanging or mounting a variety of artistic pieces from costumes and ceramics to architectural models, posters, stained glass and paintings, all the work of creatives whom, as young people, attended STAG's weekend classes and went on to have careers in some field of the Arts. What an astonishing variety there was. I was ably helped by artist Jonny Murphy and by Museum Director Marie McMahon, herself a STAG alumna, as well as being a real curator.
As a callow community artist I worked on murals projects with STAG back in the 80s. They were lovely people then and the years haven't changed that.
  Here is artist and Aosdana member, Robert Ballagh opening the exhibition.