Latest  News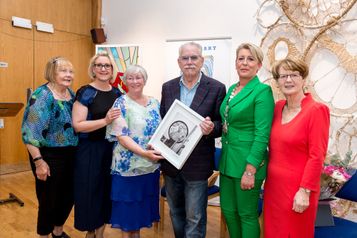 STAG
at Tipperary County Museum
  Recently, I had the pleasure of 'curating' a remarkable exhibition in Tipperary County Museum of 50 years of STAG (South Tipperary Art Group). Curating is not an art term I'm fond of but in this case, the job involved selection, arranging and hanging or mounting a variety of artistic pieces from costumes and ceramics to architectural models, posters, stained glass and paintings, all the work of creatives whom, as young people, attended STAG's weekend classes and went on to have careers in some field of the Arts. What an astonishing variety there was. I was ably helped by artist Jonny Murphy and by Museum Director Marie McMahon, herself a STAG alumna, as well as being a real curator.
As a callow community artist I worked on murals projects with STAG back in the 80s. They were lovely people then and the years haven't changed that.
  Here is artist and Aosdana member, Robert Ballagh opening the exhibition.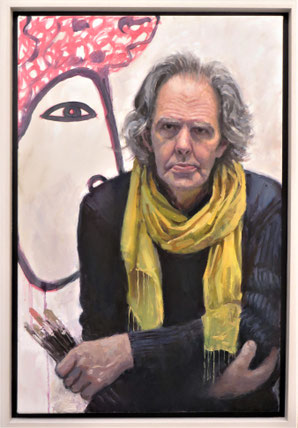 'Mick'
   I am delighted this painting was selected for the 188th Royal Hibernian Academy Annual Summer Exhibition in Dublin.This is a portrait of distinguished Irish artist, Mick Mulcahy. Mick agreed to sit for an informal portrait and I thought it would be interesting if he would include something of his own in the painting. In a few minutes, one of his iconic heads in pink and purple was painted.  Mick's penetrating stare was, initially, what I set out to capture in the portrait.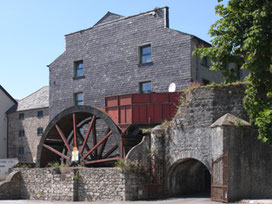 In January 2018, after several months without any life drawing I took the plunge on a lease to a large studio space which was formerly a grain store at the Old Mill, Castlebridge. The aim is to host a life-drawing group on Wednesday evenings and  there is also a Portrait Club with clothed models on Thursday mornings. So far, so good. Occasionally, I hope there will be all-day painting sessions with the model as well as weekend workshops with guest artists such as Eileen Healy, Ned Mueller, Dave West and others. See the Castlebridge Art Studio link for details if interested in joining us as artists, tutors or models.