Latest Painting and News
Paint Annapolis Plein Air Event:  4 -11 June 2017
   I'm delighted to have been selected by respected artist and author Al Gury to take part in Paint Annapolis alongside 29 other artists on the shores of Chesapeake Bay in Maryland USA. It was also an honour to win a major prize for the best painting featuring Chesapeake Bay.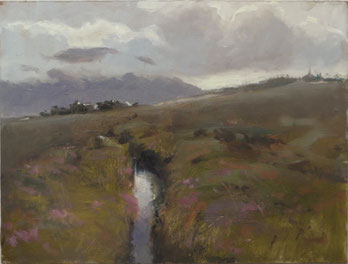 Painting Achill 
In September 2016 I went on a painting trip to Achill in Mayo, on the west coast of Ireland. This was a long-standing wish to breathe in and try to paint a landscape that has inspired generations of Irish artists.
The island is surrounded at every horizon by majestic cliffs or gentle mountains unless you are looking out across the pounding waves of the Atlantic. There is a strong sense of being on an outpost, at Europe's westernmost edge. Inland, are the peat bogs, very few fields and sheep roaming unconfined. The peat, with its dull, hardy grass is scattered with heathers and leaves rich, dark brown scars where it has been cut for turf or where streams the colour of black tea run through it. Above all, is a heightened sense of the elements, the drama of history and the shock of being alive.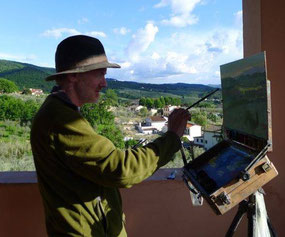 Painting in Tuscany May 2016
In May 2016 I spent a week painting just a few miles outside Florence as a guest of Tuscany Plein Air. Based in a traditional Tuscan villa with magnificent views and surrounded by olive groves teaming with wildflowers and rolling hills this is an inspirational painting setting.
There is a special climate in the River Arno valley surrounding Florence with moisture in the air and light clouds making for spectacular morning skies and sunsets and full sun in the afternoons.
I produced 20+ paintings on the trip, some of which are uploaded here.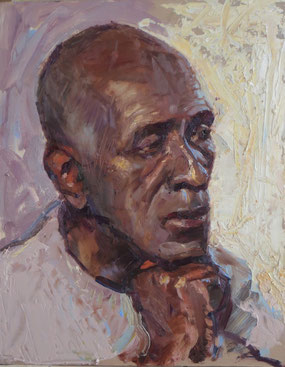 Painting from Life
One evening every week I take part in a life-drawing session with other artists at the studio of our friend, Tom King in Castlebridge. Usually, there will be a series of short studies in charcoal, conte crayon or pencil followed by a long pose with an opportunity to paint or complete a longer study lasting about an hour and a half.
Some great models do their best to help us find interesting poses and by holding the pose for quite a long time. It isn't easy.  On this occasion our usual model wasn't available and thankfully,  American Ed Barker stepped in for us. Sometimes, this may be all the painting I get to do in the week so, for me, it is very important.
Mother of the Mountains. Oil on Canvas, 20" x 30". This was painted from reference photographs after the tragic earthquake in Nepal in April 2015. I am not sure if it should rightly be called a figure painting or a landscape as, in addition to the beautiful faces and exotic costumes, it is the clear cold light and the effect it appears to have on colour which mainly drew me to this theme.