Latest Painting and News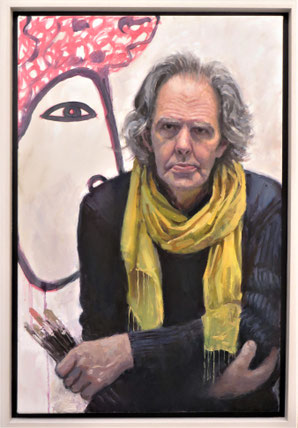 'Mick'
   This became a collaborative painting made with distinguished Irish artist, Mick Mulcahy. He agreed to sit for an informal portrait and I thought it would be interesting if he would agree to include something of his own in the painting. In a few minutes, one of his iconic heads in pink and purple (his favourite colour) was painted.
  This set up a dynamic to work with. To counter-balance it, the figure of Mulcahy is wedged against the right hand edge of the canvas. The hand holding the brushes and some dribbles of paint were added later to bring the viewer's eye back into the composition.
   The opposition between Mulcahy's  primitive profile of a youth and the  confrontational pose of my portrait of the artist is another  dynamic at work in the painting. Mulcahy is shown in the act of painting in the pose of a self-portrait.
  Thirdly, there are the three eyes in the painting. Mick's penetrating stare was, initially, what I was keen to capture in the portrait. The gimlet red-eye of his profile head reflects the concentrated focus evident in his portrait and this dynamic is what lingers for me now the painting is completed. Like many of the best things we do, they are intuitive and for all intents and purposes just seem to happen. This painting was selected for the 188th Royal Hibernian Academy Annual Summer Exhibition in Dublin.
I am delighted to be invited to join 19 other artists in May for the 13th Forgotten Coast en Plein Air event on the Gulf of Mexico coast of western Florida where I will meet some of my painting heroes.The website states, 'artistic excellence and production of investment quality art continue to be the trademark of this festival,' so, no pressure. Forgotten Coast sets out to document aspects of authentic 'Old Florida', a beautiful and unique environment and a way of life in danger of slipping away. This year, the theme will focus on the built environment. I am looking forward to having some fun and sun, doing loads of painting and learning from other artists whose work I have admired for a long time. It is also marvellous to be able to contribute something to an  worthwhile cause and I hope to forge some new links for Ireland's Art in the Open festival and learn how one of the major USA plein air events is run so successfully for more than a decade.
Plein Air South is an open outdoor painting convention, with an emphasis on
teaching, held in Port St.Joe, Florida. Several fellow artists from 'Forgotten Coast en Plein Air' will be staying on and demonstrating as part of Plein Air South, so I expect the painting party of the previous ten days to continue and I will spend an extra couple of days gaining knowledge from an impressive 'faculty' and sharing information about Art in the Open.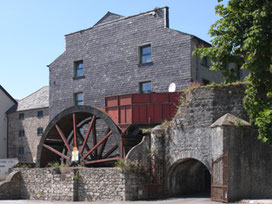 In January 2018, after several months without any life drawing I took the plunge on a lease to a large studio space which was formerly a grain store at the Old Mill, Castlebridge. The aim is to host a life-drawing group on Wednesday evenings and  there is also a Portrait Club with clothed models on Thursday mornings. So far, so good. Occasionally, I hope there will be all-day painting sessions with the model as well as weekend workshops with guest artists such as Eileen Healy, Ned Mueller, Dave West and others. See the Castlebridge Art Studio link for details if interested in joining us as artists, tutors or models.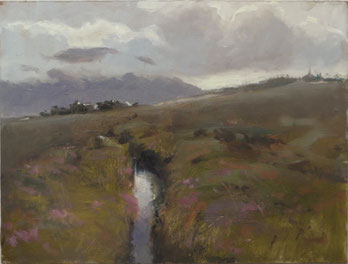 Painting Achill 
In September 2016 I went on a painting trip to Achill in Mayo, on the west coast of Ireland. This was a long-standing wish to breathe in and try to paint a landscape that has inspired generations of Irish artists.
The island is surrounded at every horizon by majestic cliffs or gentle mountains unless you are looking out across the pounding waves of the Atlantic. There is a strong sense of being on an outpost, at Europe's westernmost edge. Inland, are the peat bogs, very few fields and sheep roaming unconfined. The peat, with its dull, hardy grass is scattered with heathers and leaves rich, dark brown scars where it has been cut for turf or where streams the colour of black tea run through it. Above all, is a heightened sense of the elements, the drama of history and the shock of being alive.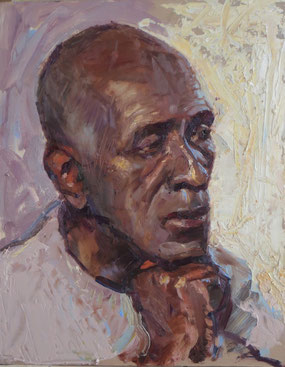 Painting from Life
One evening every week I take part in a life-drawing session with other artists at the studio of our friend, Tom King in Castlebridge. Usually, there will be a series of short studies in charcoal, conte crayon or pencil followed by a long pose with an opportunity to paint or complete a longer study lasting about an hour and a half.
Some great models do their best to help us find interesting poses and by holding the pose for quite a long time. It isn't easy.  On this occasion our usual model wasn't available and thankfully,  American Ed Barker stepped in for us. Sometimes, this may be all the painting I get to do in the week so, for me, it is very important.
Mother of the Mountains. Oil on Canvas, 20" x 30". This was painted from reference photographs after the tragic earthquake in Nepal in April 2015. I am not sure if it should rightly be called a figure painting or a landscape as, in addition to the beautiful faces and exotic costumes, it is the clear cold light and the effect it appears to have on colour which mainly drew me to this theme.