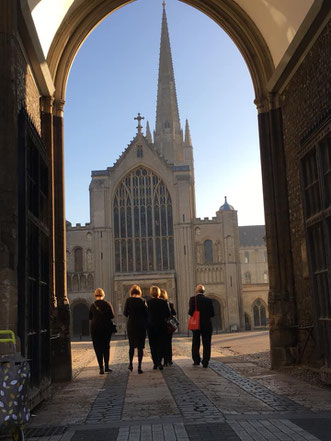 Paint Out Norwich 2018
I am honoured to be invited to demonstrate and be part of the judging panel at 'Paint Out Norwich' from 13 -17 October this year. This event is the highlight of a series of plein air events in East Anglia and the Broads, an area famous in English landscape painting. The seaside town of Wells-next-the-Sea (September) is a companion venue to which another event in Sudbury (June) has been added this year. I participated in the inaugural Paint Out Wells-next-the-Sea in 2015.
My fellow judges are: John Allen (Director of Mandell's Gallery, with over 40 years experience in the art world both as gallerist and dealer. John specialises in The Norwich School Painters, 20th-century art and contemporary East Anglian painters) and
Dr Giorgia Bottinelli (Curator of historic art at Norwich Castle Museum and Art Gallery. With a PhD in the History of Art from the Courtauld Institute of Art, she also oversaw the complete redevelopment of the Colman Galleries in 2011-12. Currently curating John Sell Cotman in Norwich and London)  together with selector David Curtis ROI, RSMA (Royal Institute of Oil Painters, Royal Society of Marine Artists accredited artist David Curtis is a plein air and figurative painter and the author of six books including The Landscape in Oils, Light and Mood in Watercolour, and Painting on Location.)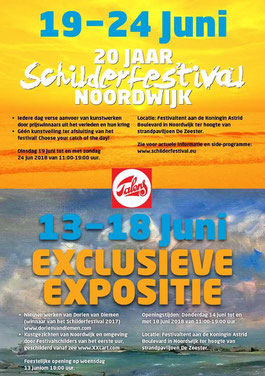 The 20th Noordwijk Schilderfestival  
   2018 marks the 20th year of the largest plein air festival in Netherlands, Noordwijk Schilderfestival. Like Skagen in Denmark and Trouville in Normandy, Noordwijk attracted  artists at the end of the 19th century, seeking the glowing light, simplicity and quietude of the coast. In Noordwijk, the most famous of these visitors was Max Liebermann and gradually a small colony of artists gravitated there.
   Today, this history is commemorated by Noordwijk Schilderfestival and this year, winners of the annual 'Rembrandt Award' were invited to attend and as winner in 2014, I was glad to renew acquaintance with many friends. The festival is energetic, hard working, welcoming and challenging and deserves the consistent success it has enjoyed.

Forgotten Coast, Florida, USA
I am delighted to be invited to join in the 13th Forgotten Coast en Plein Air event on the Gulf of Mexico coast of western Florida where I will be honoured to rmeet some of my painting heroes. This 10 day festival in May sets out to highlight aspects of a beautiful and unique environment and a way of life in danger of slipping away. This year, the theme will be the built environment. Of course, I am looking forward to having great fun, doing loads of painting and learning from artists whose work I have admired for a long time. But it is also marvellous, to hopefully be able to contribute something to an important cause. I will do my best to learn how one of the major plein air events in the USA is run so successfully and to forge some new links with Ireland's Art in the Open.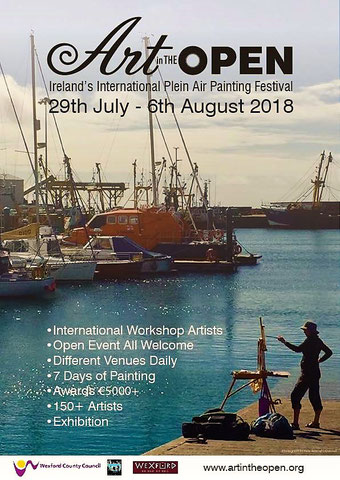 29 July - 6 August 
Ireland's 11th international plein air painting festival with 200 artists over a 9 days returns for over a week of creativity. Popular with Americans and Europeans alike, this is a special event in Ireland's cultural calendar.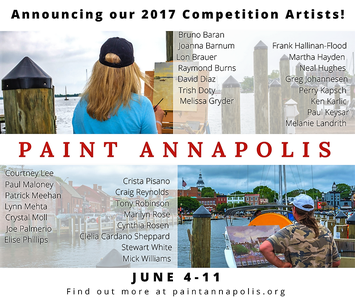 Paint Annapolis Plein Air Event:  4 -11 June 2017
   I was honoured to have been selected by artist and author Al Gury to take part in Paint Annapolis alongside 29 other artists on the shores of Chesapeake Bay in Maryland USA. It was also special to win a major prize at the event for  Best Painting featuring Chesapeake Bay.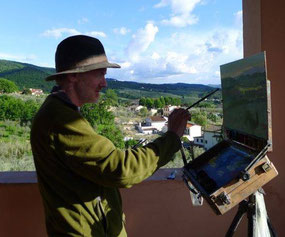 Painting in Tuscany May 2016
In May 2016 I spent a week painting just a few miles outside Florence as a guest of Tuscany Plein Air. Based in a traditional Tuscan villa with magnificent views and surrounded by olive groves teaming with wildflowers and rolling hills this is an inspirational painting setting.
There is a special climate in the River Arno valley surrounding Florence with moisture in the air and light clouds making for spectacular morning skies and sunsets and full sun in the afternoons.
I produced 20+ paintings on the trip, some of which are uploaded here.